The Great Famine Voices Roadshow was welcomed to Quinnipiac University in Hamden, Connecticut, by Professor Christine Kinealy, Founding Director of Ireland's Great Hunger Institute. Professor Kinealy addressed the Roadshow about the legacy of escaped slave Frederick Douglass and his journey to Ireland during the Great Hunger in front of the Institute's Douglass statue.  She also paid tribute to Elihu Burritt, a Quaker from New Britain, Connecticut, who bore witness to the intense suffering of the Irish in his Journal of a Visit of Three Days to Skibbereen and its Neighbourhood (1847) which helped attract international aid.
The Great Famine Voices Roadshow was also welcomed to Hamden, Connecticut, by Dr Gerard Moran, who recounted the legacy of James Hack Tuke, a Quaker Philanthropist who helped nearly ten thousand Irish people to escape from Connemara and Mayo, especially the Belmullet peninsula, to Canada and the United States during the "forgotten famine" of 1882-1884.
Several descendants of those assisted emigrants including Catherine Corless, Lenora Kenney Daniel, Ethan Daniel, Jane Kennedy, and Richard Rook (author of Tiernan's Wake) as well as Dr Margaret Lynch shared their stories about their ancestors with the Roadshow. They are featured in the group photograph below left.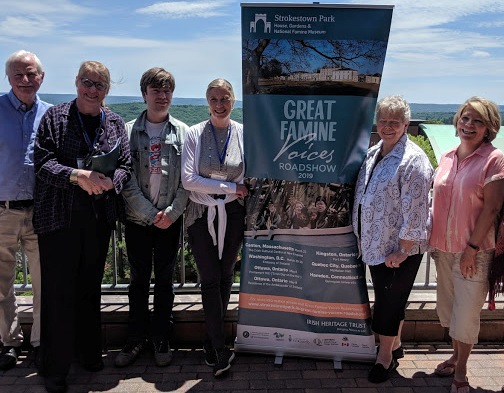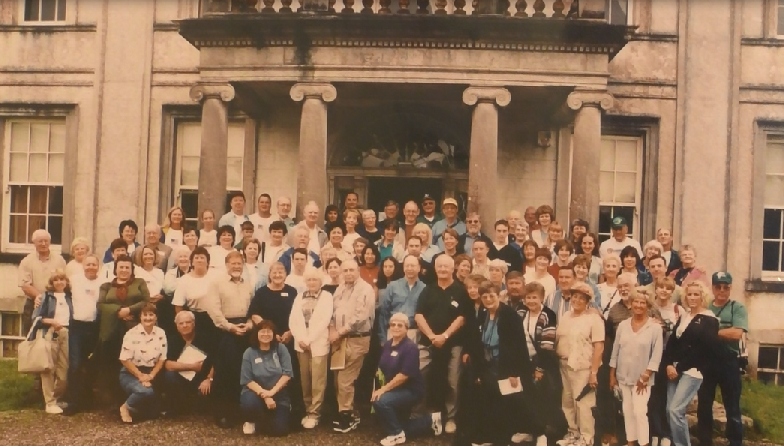 Anne Marie Bell shared with the Great Famine Voices Roadshow her stories of her ancestors from the crown estate at Ballykilcline, County Roscommon, who were forced to emigrate to Rutland, Vermont, during the Great Hunger. She is a member of the Ballykilcline Society that has held regular family reunions, such as the one at Strokestown Park House pictured above right.
Mike Murphy, head of cartography in the Geography Department at University College Cork, demonstrated for the Roadshow the award winning Great Irish Famine Online website, which was developed in partnership with the National Famine Commemoration Committee, Department of Culture, Heritage, and the Gaeltacht.
Mary Ann Moran recounted for the Roadshow the story of her ancestors leaving Dingle in County Kerry for Springfield, Massachusetts, as well as her fascination with the Blasket Islands.
GREAT FAMINE VOICES ROADSHOW HAMDEN, CT GALLERY